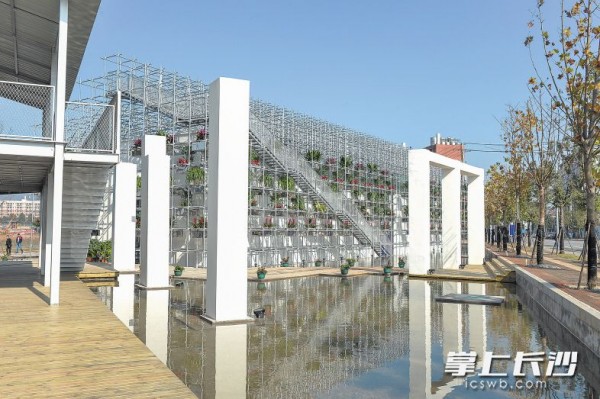 The creative space built with scaffolds near the Houhu Lake.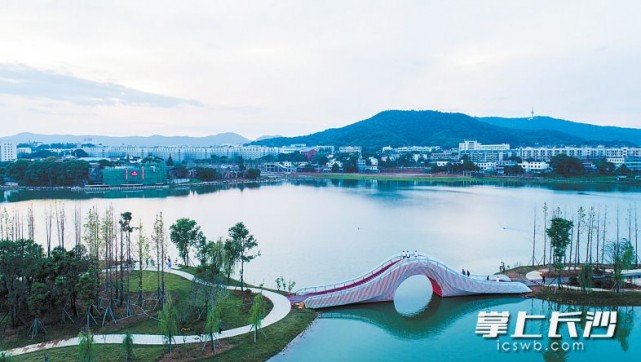 Houhu Lake is situated next to the foot of the Yuelu Mountain and the Xiangjiang River. Visitors will have an enchanting view of lake and mountain when getting here.
After over three years of construction, the Houhu Lake International Art Park will be open to the public on December 9th. With a water area of 600 mu (40 ha.), it has enchanting lake scenery. Several hundred private houses have been renovated and become a part of the unique art zone. More than one hundred celebrities of today including Zhu Xunde, Wang Yuewen, Zhang Nan, and Yang Jianjue, have been attracted to settle down here. Besides some famous art locations like Beijing 798 and Shanghai's Mogan Mountain, the Houhu Lake scenic area of Changsha city will certainly have its place in China's art circle in the future.
Centering around Houhu Lake, the Houhu Lake International Art Park connects Xiaoxiang Road in the east, Hou Lake Road in the west, Jinjiang Road in the south and Fubuhe Road in the north, and borders on Central South University, Hunan Normal University and Hunan University. The art park has a planned area of 2110 mu (141 ha.), of which the water area occupies about 600 mu (40 ha.). It features picturesque natural environment; long cultural history; free, active and dynamic university atmosphere; and good supporting facilities and convenient transportation. All these combined factors contribute significantly to the growth and development of the park. 
Statistics about Houhu lake
●Water area: nearly 600 mu (40 ha.)
● Planned area: 2,110 mu (141 ha.)
● Original buildings: 500 buildings covering 150,000 square meters
● Total investment at the earlier stage: about 2 billion CNY
● "Project 2211": In the next 10 years, its two leading industries will achieve an annual output value of more than 20 billion CNY, and develop 10 listed companies.
●Three major functional areas: Scientific & Creative Dream Town, Normal University Art Town, and Hunan University Design Town
This article is from Hunan Provincial Government. www.enghunan.gov.cn.
Translator: Luo Rong
Chinese source: icswb.com
Updated on December 7, 2018