Photo source: Official Website of Hunan Museum
As the largest history and art museum in Hunan province, the Hunan Museum covers an area of 49,000㎡, with the building area reaching 91,000㎡. It is one of the first batch of national first-level museums and one of the first eight national museums co-funded by central and local governments.
For several decades, the museum as a cultural landmark in Changsha city, has attracted millions of visitors. It not only presents the Chinese civilization along the middle reaches of the Yangtze River but also serves as a unique window for people to understand the development of the civilization in Hunan province as well as to appreciate the mysteries of Hunan culture.
Boasting abundant collections, the museum houses over 180,000 artifacts, which feature the cultural relics excavated from the world-famous Mawangdui Tombs of Han Dynasty, the bronze wares of the Shang and Zhou Dynasties, cultural relics of Chu State, pottery and porcelain works from various dynasties, calligraphy works and paintings, religious objects, handicrafts and cultural relics of modern times.
In order to fully display these cultural treasures in the museum, the Museum conducts in-depth research on the cultural relics and stages two permanent exhibitions and four themed exhibitions by utilizing modern display technology. The two permanent exhibitions are Changsha Mawangdui Han Dynasty Tombs Exhibition and Hunanese-Exhibition of Hunan History and Culture. The four themed exhibitions cover the themes of bronze wares, ceramics, calligraphies and paintings, and crafts respectively. In addition, the museum will introduce and launch various special exhibitions from abroad with rich content. It showcases civilizations and splendid cultures around the world as well as displays and spreads the culture of Hunan province. It has already established itself as an institution with high professionalism specialized in display and communication among the general public and maintained close ties with them.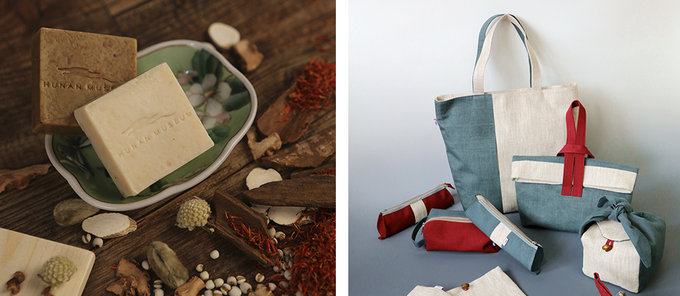 Photo source: Window for ASEAN-China Children's Cultural Exchanges
By fully understanding the research & development concept of "creative industries", the Hunan Museum has always been devoted to exploring the special features of its collections and transforms them into museum cultural and creative products. With many years of efforts, it has launched more than 500 kinds of cultural and creative products. With the renovation and expansion project, the museum actively integrates external resources and takes full advantage of its brands resources, collections, projects, venues and the leading position in industrial management. The strategies of public service and cultural creativity of the new exhibition building has been formulated and the product development recognition system has been established. Under the guidance of the market, the visitor data has been collected and analyzed. The strategies of cultural creativity and development concept have been formulated. Research into and discussions of the brand planning and Intellectual Property Right Protection have been carried out. Since 2008, the cultural and creative products developed and designed by the Hunan Museum have received over 10 awards issued by the Tourism Expo and other organizations for their cultural creativity or advanced technology.
Source: Ministry of Culture of the People's Republic of China;  China Daily
Visiting Information
Open Hours
From Tuesday to Sunday, 9:00—17:00 (last entry at 16:00); the museum is closed on Mondays (except statutory holidays) and on Chinese Lunar New Year's Eve.
Free admission policy
The museum is free to the public except for some special exhibitions. Children under the age of 14 shall be accompanied by adults. An adult can only bring up to 2 children under the age of 14 to visit the museum.
Exhibitions free of charge

Changsha Mawangdui Han Dynasty Tombs Exhibition, Hunanese—Exhibition of Hunan History and Culture.

Online Booking
According to the current pandemic prevention and control requirements, tickets for admission to the Hunan Museum must be reserved online at least one day in advance with a valid ID. The daily limit is 9,000 visitors (permanent and temporary exhibitions included). You can book your ticket on our official website or WeChat official account 7 days in advance. Reservations begin at 20:00 every day. Please wear a mask and arrive on time for the designated entry time with reservation message, a valid ID, green health code and travel code. No admission for visitors who could not meet the above-mentioned requirements or have symptoms such as having a fever (body temperature≥37.3℃) or coughing.
Guided Tours
The museum has resumed free tour guide services of Changsha Mawangdui Han Dynasty Tombs Exhibition, Hunanese—Exhibition of Hunan History and Culture at designated time and spots; educational activities, the VR Digital Experience Hall and multimedia equipment in the exhibition hall are now available again. Services such as group reservations and parking will not be provided temporarily. To comply with pandemic prevention and control measures, we will suspend or cancel docent-guided tours when there are too many visitors. Instead, you can use our official APP, WeChat official account on the smart phone to conduct self-guided tours free of charge.
Visiting Rules and Regulations
1. Inflammable, explosive or dangerous articles and other contraband are strictly prohibited. Security check is required before entering the museum. No drinks, food, or pets.
2. Visitors having difficulty in walking or with underlying diseases shall be accompanied by others.
3. Children under the age of 14 shall be accompanied by adults.
4. No admission for people who are drunk, do not properly dressed, or have mental diseases without accompanied guardians.
5. Some floor in the exhibition halls is slippery and lighting in some sections is not very bright. Please be cautious.
6. No filming or flash. Selfie-sticks and tripods are also prohibited.
7. Do not touch the exhibits. Anyone who damages the cultural relics shall bear the legal liability.
8. Please protect the public facilities. Smoking, making noises, chasing, climbing or lying on the ground are forbidden inside the museum.
9. Please keep clean of the public space and do not litter in the exhibition halls.
10. Please abide by public order and do not wear roller skates or any kinds of roller shoes.
11. During major events, please follow the instructions of the museum staff.
Location of the Hunan Museum:
No. 50, Dongfeng Road, Kaifu District, Changsha City, Hunan, China(湖南省长沙市开福区东风路50号)
Postal Code: 410005
Visiting Consultation Tel: 0731-84415833; 84475933
Getting Here:
1.Buses:No. 131, No.112, No.146, No.150, No.358, No.113, No.901, No.136, No.203
2.Metro:
Metro Line 1: get off at Peiyuanqiao Station (培元桥站) Exit No. 2, and then take the buses No.112 or No. 222, or No. 901 to reach the museum.
Metro Line 2: get off at Yingbin Road Station(迎宾路口站)Exit No. 5, and then take buses No. 131, or No. 113, or No. 146 to reach the museum.
3.From the Airport:
Option A: Take the airport shuttle bus at Changsha Huanghua International Airport to the Civil Aviation Hotel(民航酒店) and then transfer the Bus No. 136 to the Hunan Museum. Walk to the north for about 300 meters, and then you can arrive at the gate of the museum.
Option B: take the maglev train from Changsha Huanghua International Airport and arrive at Changsha South Railway Station. Then transfer Metro Line Two and get off at Yingbin Road Station(迎宾路口站). Take buses No. 131 or No. 113 to get off at the Hunan Museum bus stop(省博物馆公交站). Walk to the north for about 300 meters, and then you can arrive at the gate of the museum.
Source: Official Website of Hunan Museum
Updated on August 18, 2022