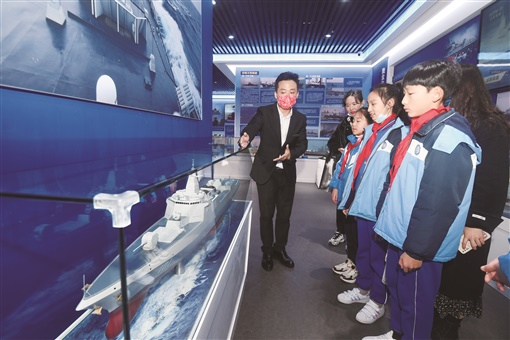 The photo, taken on January 4, shows visitors observing a warship model at the Museum of Modern Navy Equipment. (Photo/Tian Chao)
The Museum of Modern Navy Equipment opened on January 4, 2022, after half-year construction. It is situated at the foot of Yuelu Mountain, next to the Former Residence of Xiao Jingguang.
There are 45 warship and equipment models on display, such as a 10-meter-long model of the Changsha destroyer, an 8.75-ton anchor, and models of aircraft carrier, nuclear submarine, destroyer, and frigate.
The museum is an educational center for red or revolutionary traditions and national defense, co-constructed by the China State Shipbuilding Corporation Limited (CSSC) and the Hunan Provincial People's Government.
Covering nearly 500 square meters, it consists of an indoor and an outdoor exhibition area. In its six-chapter exhibitions, physical exhibits, images, texts, and models are displayed to introduce the development of navy equipment since the Opium War in 1840. Representative achievements of the Chinese People's Liberation Army (PLA) Navy since its founding in 1949 are highlighted, from imitated to innovated warships and equipment, and from offshore to remote and deep sea operations.
Visitors can also enjoy several interactive programs at the museum, such as VR experience of ship-borne aircraft take-off and landing on an aircraft carrier, and shooting game.
The Former Residence of Xiao Jingguang is next to the museum. Xiao Jingguang is the first PLA Navy commander, and had engaged in his position for three decades. He was one of the founders of the PLA Navy, and reputed by Chairman Mao Zedong as a "lifelong navy commander".
The museum opensto the public free of charge from Tuesday to Sunday.

Tips:
Opening time: Tuesday to Sunday
Ticket: free of charge
Address: next to Former Residence of Xiao Jingguang, Yuelu District, Changsha
How to get there:
Option 1:
Take Bus No. 26, No. 318, No. 417, No. 407, No. 913, or No. 152, get off at the Tianmashan East Bus Station [天马山东公交站], and then walk about 300 meters.
Option 2:
Take Changsha Metro Line 4, get off at the Fubuhe Subway Station [阜埠河地铁站], exit from the station's Exit 6, and then walk about 1,200 meters.
Translator: Pang Yuehui
Chinese source: Voice of Hunan