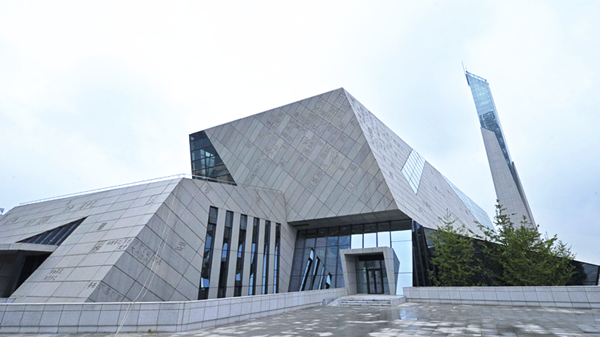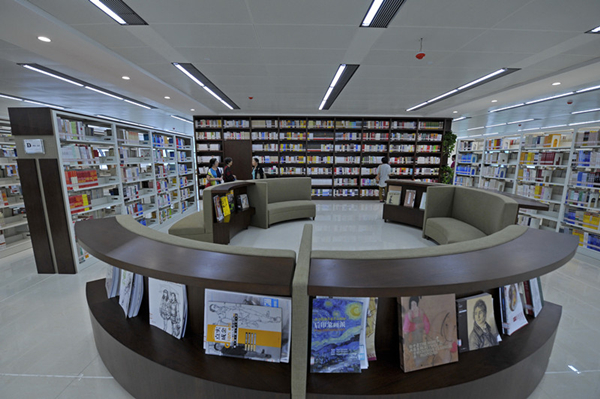 New Changsha Municipal Library is located in the Binjiang Cultural Park of Xinhe Delta at the junction of Xiangjiang River and Liuyanghe River.

Covering a construction area of 31,200 square meters, the library has a collection of one million books and can accommodate 3,000 readers.
 
During trial operation, the service office on the first floor, news & magazine reading room on the second floor, reading room for teens on the third floor, and social science reading room on the fourth floor are open to the public from 9:00 to 16:00 every day.
Layout:

Basement (7013 sqm): general stack, rare book stack, logistic service office, new book exhibition hall, restaurants, coffee bars, and specially-designed animation hall. 

First floor (6456 sqm): cashier room, children's reading room, newspaper reading room, copy room and lecture hall.
 
Second floor (5608 sqm): open reading room on science and engineering, map reading room, reading room for the disabled, and research office.

Third floor (5455 sqm): open reading room on arts, reading room on ancient books and records, and research office.


Fourth floor (3122 sqm): e-reading room, multimedia audiovisual studio and research office.
How to get there: take the No. 11 or No. 106 Bus to Liang Guan Yi Ting (二馆一厅站 literally means two pavilions and one hall—New Changsha Municipal Museum, New Changsha Municipal Library and Changsha Concert Hall), or take subway (line 1) to Beichen Sanjiaozhou (北辰三角洲站 Beichen Delta)
Chinese source: hunan.gov.cn