The photo shows Long Hongxiang (L), an inheritor of Miao embroidery (a provincial intangible cultural heritage), instructs her student in embroidery skills. (Photo/Guo Liliang, Hunan Daily)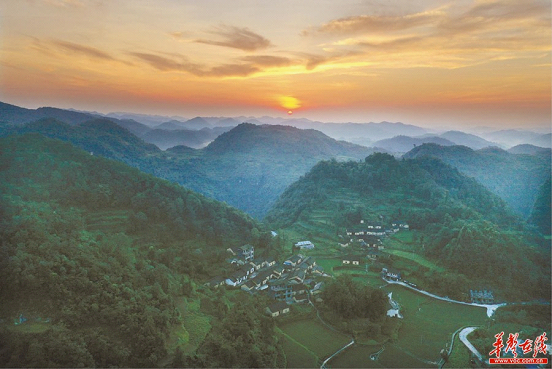 The photo shows the beautiful scenery at dawn in Shanjing Town, Fenghuang County, where Miao villages locate. (Photo/Guo Liliang, Hunan Daily)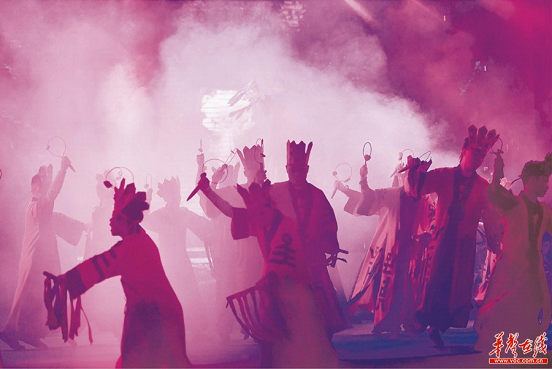 The photo shows traditional folk customs and performances of Miao ethnic group. (Photo/Guo Liliang, Hunan Daily)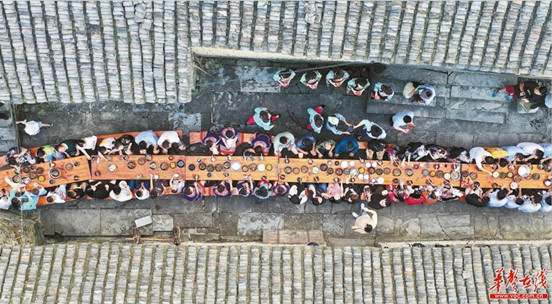 The photo shows Miao people prepare a banquet to greet guest from afar at Laojiazhai Village, Shanjing Town, Fenghuang County. Currently the village's ethnic traditions and Miao dwellings are best-preserved in Fenghuang County. Its traditional culture and folk customs attract numerous tourists. (Photo/Tian Chao, Hunan Daily)
The photo shows Miao youth sing in the antiphonal (call-and-answer) style to find love and make new friends. (Photo/Guo Liliang, Hunan Daily)
Shanjiang is a Miao town in Fenghuang County, and it is 20 km away from Fenghuang Ancient Town. More than 20,000 Miao people live here.
Shanjiang Town is in northwest Fenghuang County, Xiangxi Tujia and Miao Autonomous Prefecture. It is a typical Miao town. It has ancient villages and houses, traditional sacrifices, weddings, funerals, festivals, stunts, silver ornaments, costumes, embroidery, drum dance, medicine, and cuisine. There are four national-level traditional villages, two historical and cultural villages, and one provincial minority village. It is the Miao culture tourist center for the Wuling mountain area, with a national Miao culture protection and inheritance center, and a national Miao culture root-seeking destination. 

The town enjoys long history, profound culture, and strong ethnic traditions. It is the hometown of Chinese folk culture, and an experimental base for the ecological protection of Miao culture in Wuling mountains.
Mysterious Miao culture and gorgeous scenery await you to explore more. 
Chinese source: hunan.voc.com.cn