Photo source: changde.gov.cn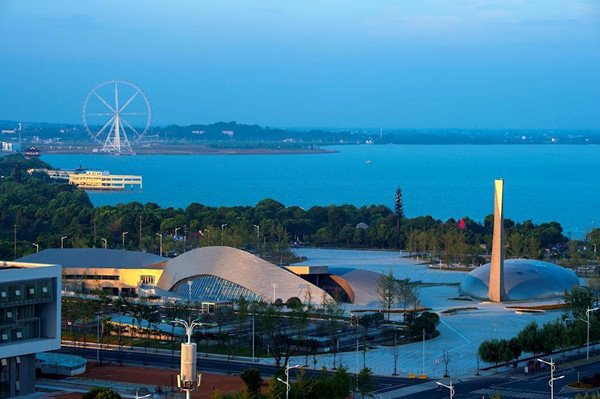 Photo source: changde.gov.cn
To the northeast of the ancient city of Changde is Liuye Lake in the shape of a willow leaf. This area is ideal for recreation, healthcare and aquatic sports. Within the resort there are White Crane Hill, Flower Hill, and Sun Hill, all are covered with pine and fir trees, and islets in the lake shimmering like emeralds in blue water. Also, Yinyuan Garden, Wujianping Terrace and Mount Zhangjia, a graveyard since the Warring States Period, add rich cultural atmosphere to the natural scenery.

Covering 21.8 square kilometers, Liuye Lake, named after its shape that resembles a willow leaf, is the largest lake within a city's downtown area in China.

Nestled among the mountains, the lake glitters like a giant diamond when the sun shines.

Islets on the lake are covered with luxuriant plants. Seen from afar, they look like emeralds embedded on a giant hairpin some goddess might have dropped.

The surrounding mountains add to the charm of the lake. To its north is Baihe Mountain, a long-time habitat of white cranes.

From May to September each year, thousands of cranes and egrets feed, nest, mate and raise their young around the lake, making it a world of birds.

To the southwest of the Liuye Lake stands Huashan Mountain. Literally meaning a mountain of flowers, it is covered with a sea of wildflowers in a large range of bright colors.

The lake is also an excellent place for water sports. Since 1995, it has hosted a number of international events, including the Asian canoeing championships, Sino-US water-skiing competition and the Dongting Lake dragon boat competition.

With investment of 2 billion yuan, a 333-hectare water park on an island in the lake offers a selection of rides and attractions, including musical fountains, golden beaches and a 120-meter-tall Ferris wheel.
 
Tel: 0736-7129299/0736-7712301