(Photos/Liu Yongzhong, Wang Yongbo, Liu Yuan, Changsha Evening News)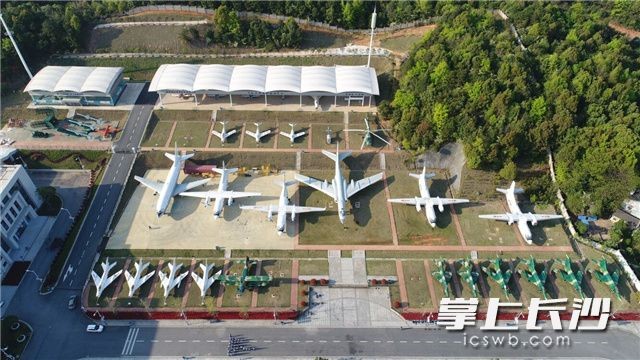 On December 26, the Hunan Aviation Museum, the first of its kind in Hunan,  opened in Changsha. 
The museum is located in Hunan Aeronautical Vocational and Technical College, Yuhua District, Changsha. It covers an area of more than 20,000 square meters, and consists of three parts: main hall, antique aircraft exhibition, and aviation equipment display. It is a modern and professional museum that integrates aviation equipment, aviation technology, and aviation culture.
With an area of 7,526 square meters, its main hall has three floors. The first floor serves as a military aviation exhibition area; the second floor for civil aviation; and the third floor exhibits aviation production and education.
The museum provides cultural and educational exhibitions; interactive driving experiences; and, audio-visual activities. Visitors can not only experience the UAV interactive driving, but also try their hand at aircraft equipment operation, and UAV aircraft assembly.
Admission: free
Opening hours: 
9:00-12:00; 14:30-17:00 (On winter and summer holidays, the opening hours will follow a different schedule. )
It is closed on Mondays.
Notes:
1. A reservation is needed on Wednesday, Friday, and Sunday, while no reservation is needed on Tuesday, Thursday, and Saturday.
2. The opening hours for the pavilion's multimedia equipment on the opening day is 9∶30-11∶30; 15∶00-17∶00.
3. The summer holiday lasts from July 26 to August 15 (solar calendar); the winter holiday lasts from December 24 to January 15 (lunar calendar).
How to visit: 
Each team shall make an appointment 3 days in advance for approval before visiting. There are no more than 200 people each time. 
Individual visitors can enter the pavilion with valid identification documents.
How to get there:
Take bus No. 27 to get off at the terminal station on the Hunan Aeronautical Vocational and Technical College Tiaoma Campus.
Address: Hunan Aeronautical Vocational and Technical College, Tianxinqiao, Tiaoma Town, Yuhua District, Changsha. 
Tel: 0731-85473716
Chinese source: hn.xinhuanet.com