On October 15, the 2020 National Mass Innovation and Entrepreneurship Week Hunan Sub-venue was launched in Chenzhou. Xu Dazhe, Hunan governor, attended and announced its opening.The participants watched the opening ceremony of the 2020 National Mass Innovation and Entrepreneurship Week.
Yi Pengfei, CPPCC Hunan Provincial Committee vice chairman and CPC Chenzhou Municipal Committee secretary, delivered a speech. Wang Qun, Hunan Provincial People's Government secretary-general, presided over the ceremony.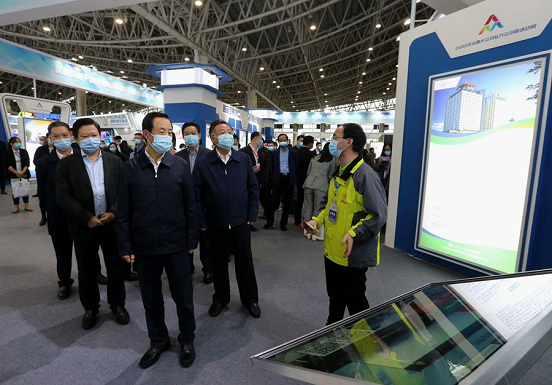 Governor Xu and his entourage visited the theme exhibition; learned about the measures and effects of promoting innovation and entrepreneurship in Hunan Xiangjiang New Area, Zhuzhou High-Tech Industrial Development Zone, Central South University, and other national innovation and entrepreneurship demonstration bases; and, experienced the potential and charm of a series of innovation and entrepreneurship projects. Governor Xu asked to implement the spirit of General Secretary Xi Jinping's important speech made when inspecting Hunan. He said that we should focus on building the "three highlands" of important national advanced manufacturing industry, technological innovation with core competitiveness, and reform and opening up in inland areas; taking on the "four new" missions of breaking new paths in promoting high-quality development, showing new deeds in building a new development pattern, performing new responsibilities in promoting the rise of central China and the development of the Yangtze River Economic Belt, and making Hunan's contributions to the adherence and development of socialism with Chinese characteristics in the new era; and, implementing the five key tasks of high-quality development, agricultural and rural modernization, ecological civilization, improving the people's livelihood and maintaining stability, and inherit the red revolutionary tradition and forge ahead. We should strive to create a sound environment for innovation and entrepreneurship; provide better and more efficient services; attract and gather a large number of innovative entrepreneurs to Hunan to display their talents and achieve their dreams; and, inject new and greater impetus for the high-quality development of Hunan, he added.
The event is closely linked to the "13th Five-Year Plan" finale and the annual target of winning a decisive victory in building a well-off society in an all-round way and the decisive battle against poverty. Forums, online and offline matchmaking meetings, cloud roadshows, and other activities will be carried out to showcase Hunan's achievements in innovation and entrepreneurship service; ensure stability on the six fronts and security in the six areas; support for employment expansion; technological innovation in key areas; "Internet" actions promotion; and, business environment optimization, to build a platform for communication and cooperation for innovative entrepreneurs.
This article is from Hunan Provincial Government www.enghunan.gov.cn.
Translator: Yu Jiangjiang
Chinese source: hunan.gov.cn