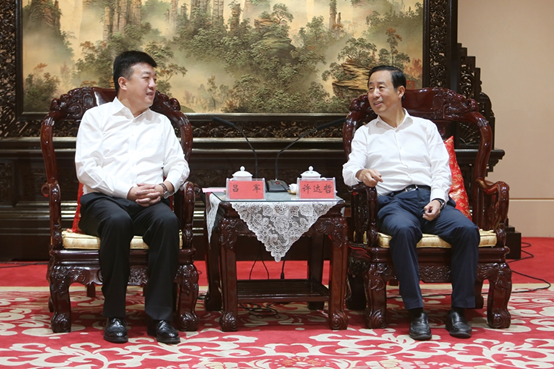 On September 14, the People's Government of Hunan Province and the China Oil & Foodstuffs Corporation (COFCO) held talks in Changsha. Both sides had in-depth exchanges on further deepening cooperation between the province and the enterprise. Xu Dazhe, CPC Hunan Provincial Committee deputy secretary and Hunan governor, and Lv Jun, COFCO CPC Leadership Group secretary and chairman, attended.
Sui Zhongcheng and Chen Fei, Hunan vice governors, and Wang Qun, secretary general, attended.
On June 9 this year, the provincial government and COFCO signed a strategic cooperation agreement in Changsha. It decided to carry out in-depth cooperation in grain, oilseeds, pigs, tea, wine, industrial poverty alleviation, urban construction, and financial services. Currently, both parties are actively promoting the implementation of the agreement.
Governor Xu said that this year, Hunan has implemented the spirit of General Secretary Xi Jinping's serial important speeches and instructions; overcome the impact of the epidemic and floods; and, done well in ensuring stability in six fronts and security in the six areas. The provincial economic and social development has shown a steady trend. Hunan is an agricultural powerhouse. It has extensive collaboration space with COFCO in many areas such as the development of high-quality agricultural products. Both sides share huge cooperation potential. He expected COFCO to give full play to its central enterprise role and continue to deepen strategic cooperation with Hunan, especially in the areas of industrial poverty alleviation, ensuring grain quality and safety, ensuring food safety, improving and strengthening agricultural brands, and introducing innovative talents. Hunan will provide high-quality services and create a better development environment for various enterprises including COFCO.
Chairman Lv Jun said that COFCO will keep implementing the strategic cooperation agreement, and make a good brand-building of the Hunan characteristic agricultural products based on its industrial advantages. Meanwhile, COFCO will continue to expand collaboration space and potential, to achieve better and greater self-development while promoting Hunan's local economic development.
This article is from Hunan Provincial Government www.enghunan.gov.cn.
Translator: Yu Jiangjiang
Chinese source: hunan.gov.cn