Carve the pumpkin and buy the candy; Halloween is just around the corner.
Whether going as a cute cat or spooky ghost, Halloween is all about being something you aren't and has a long tradition. It was started approximately 2,000 years ago by the Celts, a group of people that lived in what is today Ireland, the United Kingdom and northern France. They celebrated their new year on Nov. 1, marking the end of summer and the harvest and the beginning of winter. On the night before, Oct. 31, they celebrated Samhain, a night when they believed spirits returned to earth and yielded comforting prophecies to get them though the winter. To commemorate the event, the Celts wore costumes and built large sacred bonfires, which they then used to light their hearth fires, believing it would protect them from the coming winter.
Years later, when the Celtic territory had been conquerred by the Romans, two more festivals were added to Samhain including a day to honor Pomona, the goddess of fruit and trees, whose symbol is an apple. Coincidentally, bobbing for apples is still a largely practiced game on Halloween.
By the 800s, Christianity had spread into the Celtic area and Nov.1 was designated as All Saints' Day or All-Hallows, a time to honor saints and martyrs. The day before it, Oct. 31, was called All-Hallows Eve and eventually Halloween. When European immigrants began to come to America, they brought Halloween with them. Around 1846, when Irish immigrants began fleeing to America to escape the potato famine, Americans began imitating their customs, dressing up in costumes and going house to house asking for food or money. Now, it's all about the candy.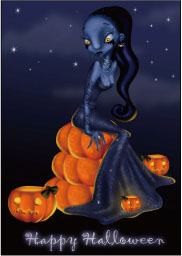 A typical symbol of Halloween is the pumpkin. At first, settlers carved turnips or gourds as a way to welcome deceased loved ones and ward off evil spirits. When they arrived in America, the native pumpkin seemed a better choice, larger and easier to carve. Pumpkin carving used to be simplistic, featuring two eyes, a nose and a mouth. Now, people carve celebrity faces, animals and scenes onto their pumpkins.
Law enforcement officials want to make sure trick-or-treaters are kept safe this Halloween. They recommend the following safety tips: if wearing a mask, children should make sure they can clearly see, especially when walking at night; carry a flashlight or other illumination device to see and let others see you; make sure costumes allow you to be seen at night; stay on the sidewalks whenever possible; be mindful of vehicle traffic; walk in groups whenever possible; respect other people's property and stay on walkways/sidewalks and along lighted pathways; do not go into any houses, unless they are of trusted friends and neighbors; and parents should inspect all candy before eating, discarding unwrapped candy and treats.
E-mail:enghunan@hunan.gov.cn
All rights reserved.湘ICP备08102974