Christmas is an annual commemoration of the birth of Jesus Christ and a widely observed holiday, celebrated generally on December 25 by billions of people around the world. A feast central to the Christian liturgical year, it closes the Advent season and initiates the twelve days of Christmastide. Christmas, a civil holiday in many of the world's nations, is celebrated by an increasing number of non-Christians. Popular modern customs of the holiday include gift giving, Christmas music and caroling, an exchange of Christmas cards, church celebrations, a special meal, and the display of various Christmas decorations, including Christmas trees, Christmas lights, nativity scenes, garlands, wreaths, mistletoe, and holly. In addition, several closely related and often interchangeable figures, known as Santa Claus, Father Christmas, Saint Nicholas and Christkind, are associated with bringing gifts to children during the Christmas season and have their own body of traditions and lore. The economic impact of Christmas is a factor that has grown steadily over the past few centuries in many regions of the world.
Christmas is the most widely celebrated festival world over, and also the most popular festival globally. Apart from traditions, customs and rituals, there are some of the interesting and enjoyable information on the different icons and symbols that are associated with Christmas.

Name: Norah Kreig
Nationality: USA
Career: International Expert of Hunan Official Web Portal
Live in Changsha: 11 years
I have celebrated Christmas many times in Changsha, and each has been unique. Some have been unforgettable:
2002: My first year of teaching at Hunan University, and my first Christmas away from home. There was nothing in the city that reminded us of the holiday (apart from "snow" spray paint on some restaurant ...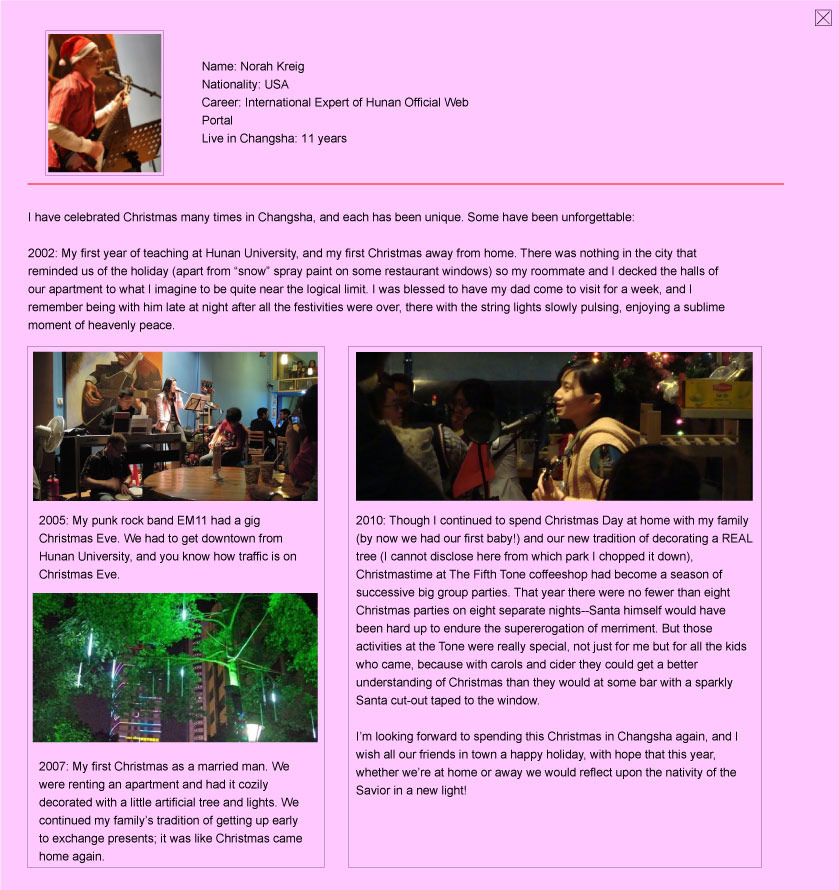 Name: Wishal Khalid
Nationality: Pakistan
Career: International Student of HNU
Live in Changsha: 4 years
Christmas is celebrated around the world by Christians as a religious festival. But in China it is mostly celebrated as a carnival rather than a religious occasion. Most foreigners in
Changsha, whether Christians or not join in the vibe and celebrate the day in their own way.

Being far away for home, most foreigners try to find any excuse to hold a gathering and have fun. In Changsha ...
A Christmas Carnival was launched at La Nova shopping center in Changsha on December 14, 2013, with numerous activities to be expected:
1. Yen-J's Autograph Signing Event
On December 22, Yen-J, a new and prominent Taiwan singer-composer, will show himself with his new album, Love×π, at La Nova shopping center. He will have a close contact with his Changsha fans. Location: Bona International Cineplex on the fifth floor
2. La Nova Brilliant Night
A food and drink consumption of over 399 yuan (299 yuan for VIP) during December 20 and 24 will get you a ticket of La Nova Brilliant Night. Such wonderful gifts as luxury gold and Iphone 5S can be expected at the night.
Location: the atrium on the second floor
3. La Nova New Year Dream Concert
You can write down your New Year dream on a paper and throw it into the wishing tree at the atrium on the second floor before January 30, 2014. We will select one lucky guy and help to realize his/her dream with the wish foundation.
Location: La Nova shopping center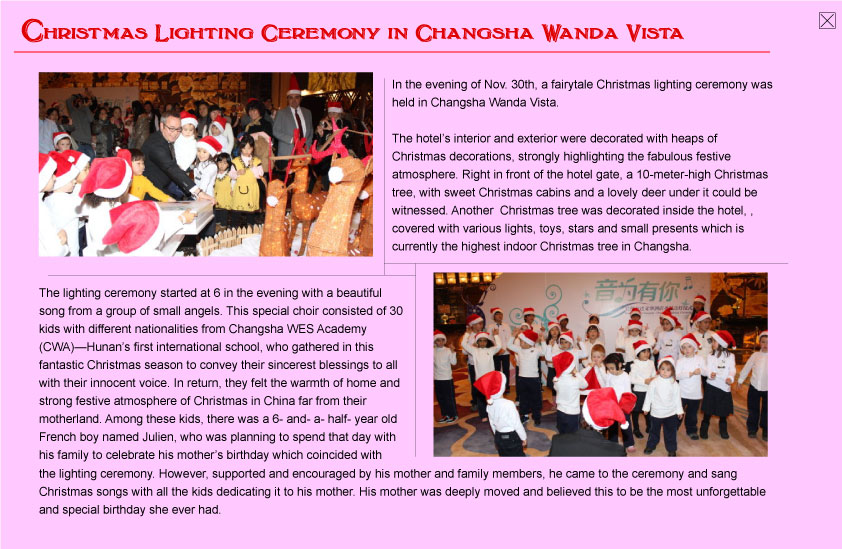 Christmas is no longer the exotic Western import it once was. We've always celebrated Christmas in a Western style. We go to bars or clubs with friends to celebrate the season. Christmas does not seem so special anymore.
A lot of university students and white-collar workers in Hunan have shown interests in Christmas, and some even have
already prepared Christmas gifts several days in advance, especially those in their 10s, 20s and 30s. Christmas party is fascinating, although many of them have never take part in a real party before. They believe it will be a great night and definitely an exciting experience.
The Changsha Jiefang Road (West) is currently home to many entertainment venues like karaoke clubs and bars. They are good choice for this Christmas Eve get-together.
Christmas has become too commercialized in the city. Now we are tired of the way people celebrate and want to try something different. We Hunanese want to make it more local and let it becomes a festival for us.
Are you looking for some cool Christmas Gifts 2013? If the answer to this question is positive, then you are in the right place. Now it is the perfect time to start hunting for the perfect Christmas Gift 2013 for your kids, your woman, your man or your friends. Finding the coolest Christmas Gifts for 2013 for the person you love can be a tough challenge for most of us. If you recognize yourself in this description, here are some unique ideas to help you get the best Christmas Gifts for 2013 that will be appreciated by everyone. Merry Christmas 2013!