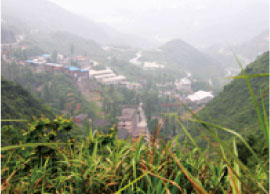 Nobody won't be deeply impressed by the greenery displayed in front of their eyes. However, the statistics which showed the seriousness of heavy metal contamination hidden in the green vegetation would be a great shock. It has always been hard to keep the balance between development and environment for Shizhuyuan Industurial Zone, one of the top 50 enterprise tax payer of Hunan Province in 2008. Shizhuyuan can trace back its mining history of lead and zinc to 433 years ago, and that of tungsten to 80 years ago.
It's not a long history since the beginning of tungsten extraction in Sizhuyuan.

But now, Shizhuyuan, which accounts for one-fifth of world's tungsten deposits, is like a poison pool, fascinating people there only by its tungsten reserves.

Though complaints are always heard that water in ponds and rivers are so seriously polluted that people even dare not wash their hands in the water, some are still bold enough to drill mine holes stealthily and illegally for tungsten exploiting, dressing and refining, while repeated government banning attempts didn't bring all them down.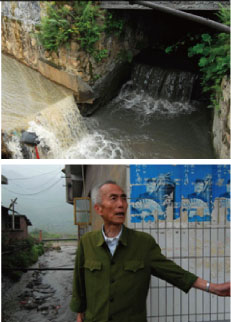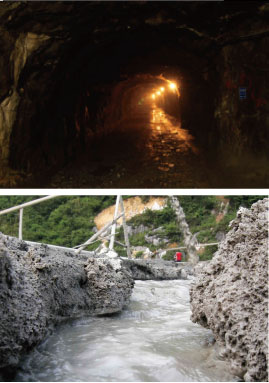 Dark water flows slowly in the river two miles away from Shizhuyuan. Seeing the large amounts of river gravels lying on the river bed, one may imagine the strong currents of the river-- obviously such low and dark water of the narrow river could never bring these gigantic rocks or even smaller ones from the upper stream. The provincial and local governments have embarked on environment protection since a couple of years ago, but the black water indicates that there is still a long way to go.

Lead, tin, copper, arsenic, iron pyrite and so on were mined in Shizhuyuan before tungsten was exploited, dressed and refined. Among the 160 minerals around the world, 143 can be found here. Most of them are in association with tungsten.

This is called the first tungsten tailings dam of Hunan Province in the neighborhood of Shizhuyuan. In the year of 2000, people began to be aware of the importance of those tungsten ore "wastes" . At least 40% of tungsten content has been left unretrieved in the waste. Out of the poor technology in retrieving, the tungsten ore tailings dams will be preserved there.
Today, China is the supplier of 80% to 90% of the total amount of tungsten consumed in the world, and the production of tungsten in Hunan Province ranks the first across the whole nation.

The largest production center of tungsten in Hunan Province is Shizhuyuan in Suxian District of Chenzhou City, which is surrounded by verdant hills and clear waters. A mine park is being planned to open to the public there. In some other places such as Xikuangshan (Mountain of Tin Minerals), reputed as the capital of stibium, rich cultures have been cultivated in the course of history.

In this issue and the next one, Hunan Geography will feature reports on non-ferrous metals in Hunan.