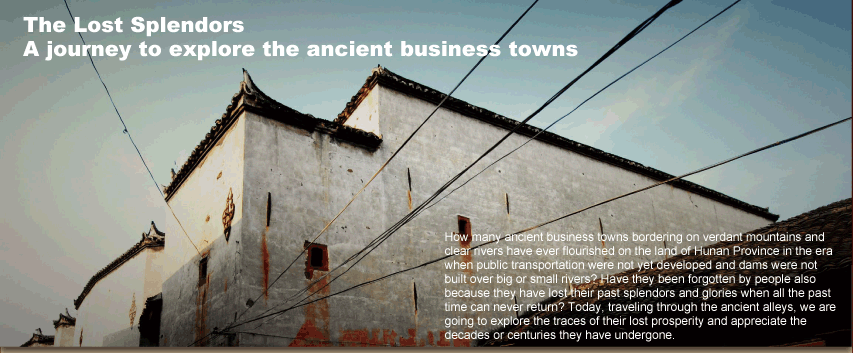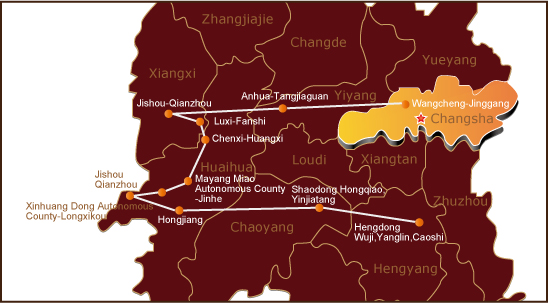 The first stop of our journey to explore the ancient business towns is Jinggan, a thousand-year-old business town on the outskirts of Changsha City. It was once the distribution center of produce from Yiyang County, Ningxiang County, Xiangyin County and itself.
"Weigang" is the old name for "Jinggang" in honor of the great general Li Jing in Tang Dynasty. Early in the Tang Dynasty, General Li Jing received the order from the Emperor of Tang Dynasty to command his army to defeat Xiaoxi in order to bring peace to the areas to the south of the Yangtz River(Changjiang River) and then safeguard the area along Xiangjiang River in Changsha. His army was then stationed in Weigang. Li Jing was affectionately admired by the local people for his wise leadership and strict discipline in managing his men. After LiJing's departure for northern borders of Tang Dynasty, he has been in people's memory. As a result, people changed the name Weigang into today's Jinggang. Covering an area of 5000 square kilometers, Jinggang used to be a critical military town in ancient China, a port for sellers of salt, and one of the four rice markets. In Feb.,2004, it was entitled a"Historic and Cultural Village of Changsha"
The Jinggang street was being reconstructed as it used to be when we paid a visit there.
Driving westward from Changsha, we arrived at Anhua County of Yiyang City. After 13km or so along the stretch of the expressway from Huaihua to Taojiang, we can view stilted houses in a row built between green mountains and crystal clear waters across the bank of the Zijiang River. This is the ancient town called Tangjiaguan.
while the verdant mountains and the ancient town still remain, the past splendors have already gone.

The Chinese new year was drawing near when we arrived there. Most of the people in Tangjiaguan spent their year end in this way.

The hammered turnips and carrots, unlike ordinary ones, taste strange to travelers, although they are made of the same stuff.
Four characters "Shao Yi Gong Suo"inscribed in the stone—according to the later two characters, there once was an government office.

The only custom preserved in celebration of the Lantern Festival is the practice of lightening candles.


From Anhua County westward, we came to Xiangxi Tujia and Miao Nationality Autonomous Region. Five km away from its capital city, Jishou City, is Qianzhou, a small exquisite ancient town of Miao Nationality.
Hujiatang in Qianzhou

The original branch of Hongwei Post Office of Jishou County, was once the residence of the one-armed hero Shi Bangfan, who was the first Chinese to have shot down the Japanese aircraft in the Anti-Japan War.

Grandpa Chen Wenbin's house built during the Republic of China. Pictures on the wall board record events of half a century.
Today's Town God's Temple is still crowded with prayers' cards for blessings.

Several elderly men are seated in a corner of the ancient town of Qianzhou around a fire they made and a puppy named "duoduo" is looking gloomily deep into the alley.

Taking a 60-mile waterway along the Yuanjiang river in Luxi County of Xiangxi Autonomous Region brought us to Pushi, another thousand-year-old town well known as a "Miniature of Nanjing (capital city of Jiangsu Province)" and "the center of temples of Hunan Province".
This dock has already passed its glories of prosperity and declined. Thirty years ago, it reached its peak, but now that has become a past.

This dock has already passed its glories of prosperity and declined. Thirty years ago, it reached its peak, but now that has become a past.