The 2009 China (Hunan) - Japan Week Kicks off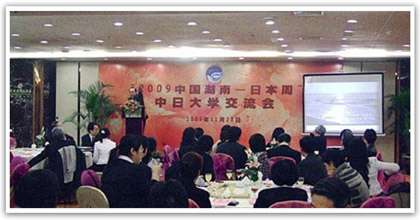 "2009 China (Hunan) - Japan Week" was launched in Changsha, attracting the participaton of a number of universities from Hunan and Japan.
Since the implementation of the policy of reform and opening-up, Hunan has increasingly strengthened its friendly exchanges and cooperation with Japan. At present, Hunan University, Hunan Normal University, Xiangtan University and other universities in Hunan province have joined hands with more than 10 universities and higher education institutions in Japan such as the Chiba University, Shiga University, Ritsumeikan University, Kagoshima University, to carry out substantial intervarsity cooperation in academic exchanges, student exchanges, joint training of graduate students, teacher exchanges, etc. Since 2006, a total of 155 outstanding high school students in Hunan have been selected to visit Japan to take part in the "High School Student Exchange Program of Chinese and Janpanese Governments" jointly organized by the Ministry of Education of P.R.C. and the Ministry of Education of Japan.Altogether there are 17 high schools in Hunan attaching themselves to this program.

Chen Xiangsheng, deputy director of the Hunan Provincial Education Department expressed the hope in his speech that the "2009 China Hunan - Japan Week" will further promote the exchanges and cooperation between Hunan and Japan in education, especially in the field of higher education.
Governor Zhou Met with Japanese Ambassador to China
On Nov. 20, Zhou Qiang, deputy secretary of the Hunan Provincial CPC Committee and governor of Hunan Province, met with the delegation headed by Yuji Miyamoto, Japan's Ambassador to China, who have come to Hunan for the '2009 China (Hunan)-Japan Week'. They exchanged views on deepening the cooperation in such fields as economy & trade, culture, science & technology, education, etc., and discussed the cooperation among enterprises of the two sides. Vice Governor Liu Liwei, Secretary-general of the Hunan Government Office Wu Jihai, along with other related people in charge accompaniedthe meeting.

The friendly relations between Hunan and Japan can be traced back to over 100 years ago, when China sent around 12,000 students to Japan for cultural exchanges and further study, and among them, one third are Hunanese. And nowadays, Japan is also the country that has granted the most non-reimbursable assistances to Hunan.

After the establishment of the Sino-Japan diplomatic relations, Hunan's relation with Japan grows steadily. Till now, 8 pairs of cities from Hunan and Japan have already become sister cities.

During the past 26 years, the two sides committed themselves to propelling the friendly relations, conducting matchmaking exchanges and cooperation in a wide range of fields like economy, trade, culture, environmental protection, tourism, education, etc., and thus deepening the mutual trust. Last year, the 25th anniversary of the establishment of friendship cities between Hunan and Shiga was celebrated in Changsha, Hunan.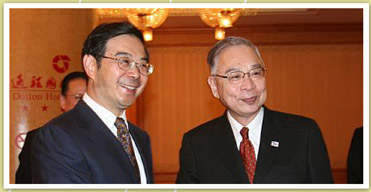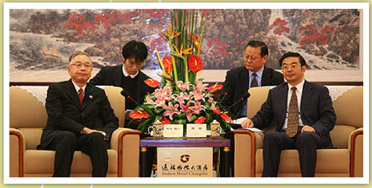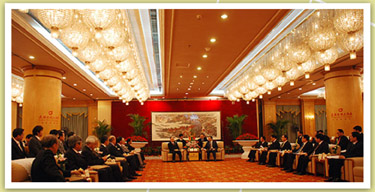 From 2006 to 2008, there were 22 Japan-funded enterprises set up in Hunan, with the contractual foreign capital of 95,380,000 USD, and the actual investment amounting to 88,170,000 USD. From January to August, the total value of import & export between Japan and Hunan reached around 681 million USD, an increase of 3.18% in import compared with the same period last year.

This '2009 China (Hunan)-Japan Week', is a concentrated manifestation of the cultural exchanges between Hunan and Japan, which will last for 4 days, covering a series of activities including the high-level talks, exchanges among enterprises, Japanese culture exhibition, symposiums, etc.

Miyamoto Yuji Delivered a Speech at Hunan University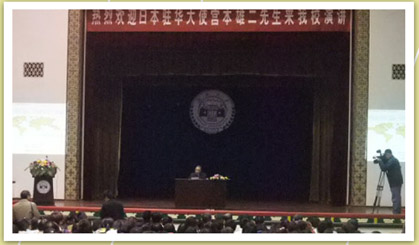 Miyamoto Yuji, Japanese embassy to China is admittedly the "star guest" in the 2009 China (Hunan)-Japan Week. He can communicate with the Hunan locals in standard and fluent Chinese most of the time.

On the morning of Nov.21, he came to the "One-Thousand-Year-Old Institution" Hunan University at the foot of Yuelu Mountain to give a lecture. He said that he has been impressed deeply with the strong determination and frankness of Hunan people, and the numerous outstanding talents coming forth in modern China in particular.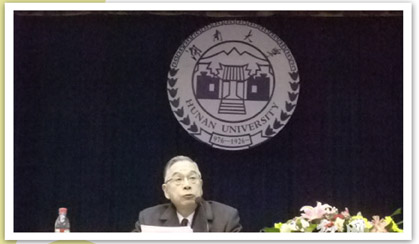 Miyamoto Yuji spoke a lot on history and finally focused on the expectation of future during his speech themed with "the Changing World & Sino-Japan Relationship". The deepening and widening of the economic relationship between China and Japan will not only strengthen the bilateral relation of the two countries, but also contribute to solve many problems the whole world is now encountering, he said.