Come New Year and people get busy sending New Year greetings through colorful cards, meaningful sms, memorable quotes, etc. These tools help you express your true feelings in this New Year. If you are also thinking of sending your family, friends or our special somebody New Year wishes, then think different---send him/her New Year quotes.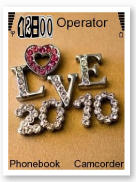 The celebration of the new year on January 1st is a relatively new phenomenon. The earliest recording of a new year celebration is believed to have been in Mesopotamia, c. 2000 B.C. and was celebrated around the time of the vernal equinox, in mid-March.
Early Roman Calendar: March 1st Rings in the New Year
The early Roman calendar designated March 1 as the new year. The calendar had just ten months, beginning with March.
January Joins the Calendar
The first time the new year was celebrated on January 1st was in Rome in 153 B.C. (In fact, the month of January did not even exist until around 700 B.C., when the second king of Rome, Numa Pontilius, added the months of January and February.)
Julian Calendar: January 1st Officially Instituted as the New Year
In 46 B.C. Julius Caesar introduced a new, solar-based calendar, a lunar system that had become wildly inaccurate over the years. The Julian calendar decreed that the new year would occur with January 1, and within the Roman world, January 1 became the consistently observed start of the new year.
Middle Ages: January 1st Abolished
In medieval Europe, however, the celebrations accompanying the new year were considered pagan and unchristian like, and in 567 the Council of Tours abolished January 1 as the beginning of the year.
Gregorian Calendar: January 1st Restored
In 1582, the Gregorian calendar reform restored January 1 as new year's day. Although most Catholic countries adopted the Gregorian calendar almost immediately, it was only gradually adopted among Protestant countries.