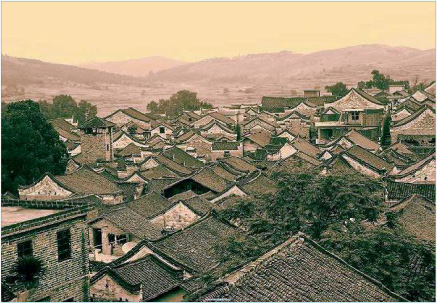 At noon on April 26, 2010, the astonishingly large-scaled and new-fashioned Zhu Family Ancestral Hall was seen at the end of Shanghuangmen Street in Rucheng County, which is the youngest and most peculiar one among what we have seen. Built in 1946 and featured with both Chinese and Western styles, it distinguished itself from the others. However, it has not been completed.
What we have seen during the past days tells such a fact that the moves to build ancestral halls did not come to a halt until 1949. Before that, the past several hundred years constitutes a family history and a chorography.
In Rucheng County, it is easy to guess the surname of a village. Take Tuqiao Town for example, the names of Li Family Village and Hunang Family Village fully reveal its village surname, not to mention your walking into any village and looking up to see the words "Li Family Ancestral Hall" or "Huang Family Ancestral Hall". It seems that every tribe members has been following the surname settlement pattern during the long periods of time, and it remains so until this day. The ancestral hall in the front of the central village seems to be their mainstay, their deep root, and a deep mark they have left in the village.