Wingsuit Stuntman Shoots through Narrow Slit in Mountainside at 75mph
Stunt performers are seen flying with winged suit in Zhangjiajie, central China's Hunan Province, Sept. 24, 2011. Eight stuntmen led by American Jeb Corliss flew through a narrow geological formation named "Tianmen Hole" in Zhangjiajie here on Saturday.
A Remark Made on News Conference of the 2011 China (Zhangjiajie) Red Bull Wing-suit Flying Through Tianmen Hole
Welcome to the press conference held by the Information Office of the Hunan Provincial People's Government and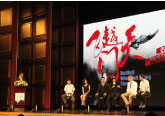 The city of Zhangjiajie in Central China's Hunan Province is going to see some of the world's best wingsuit flyers, including American Jeb Corliss, perform their incredible feats as part of a demonstration of the so-called world's most dangerous sports on September 24.